Day 274-280, 11-17April09: Trucks, dust, wind, heat: Baja California Norte, Part1
We stayed a few days in Ensenada. Gerardo, who lives in the US, came down for a day, to resupply the local bikeshop ('TNT') with new bikes and parts and took us out for breakfast in the centre of Ensenada, where we visited a nice coffeeshop with Wifi. The town was virtually deserted, no tourist in sight.
Ivana's knee was still hurting a bit, but we enjoyed the little house that Gerardo has opened up for cyclists passing South. We visited his friends Delia & Jose Antonio often and enjoyed just walking around the neighbourhood.
15th April, Ensenada – Santo Thomas, 35 km
It was time to hit the road again and we made our way across busy streets. We noticed a lot of 'Yonke' signs and realized that it one more Mexicanisation of an English word, 'junk'!
After I took a photo of the Romero Yonke, for my friend Romke Jonker :), I turned to take a photo of Ivana approaching and almost shot her being run over by a truck that passed way too close for comfort.
It was going slow, but we were warned…
On top of a hill we saw our first of several military checkpoints. They check for weapons going South from the USA to Mexico and beyond and drugs going the opposite way, but never once did we have to stop, nor were our passports or bags checked.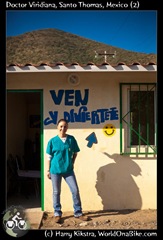 We did more climbing than expected and as Ivana started feeling some pain, we decided to call it a day in a small town of Santa Thomas. The local campsite wanted more cash than the hiker-biker sites in the USA, so we continued down the road to ask for a suitable place to pitch a tent.
We found a small local hospital where a nice doctor was teaching the local and rural population about birth control, AIDS, nutrition and more.
She did not only share a nice 'sopa de mariscos' (seafood soup), but offered us the office to put our mattresses, so we did not even have to pitch a tent.
16th April, Santo Thomas – Colonet, 76km
We got our first taste of Baja climbing today, slowly climbing over a 450m high slope. The road was not too busy, but once we hit the steepest part, the road curved and we realized that although we could hear them coming from a kilometre away, the big trucks could not see us, so mostly we waited on the side of the road to let them pass.
We had seen many signs depicting 'campsite' along the way, but they never had any direction, explanation, name or distance attached to them, so we never actually saw one.
The town of Colonet seemed to be nothing more than just a few dusty convenience stores along the highway, but when we went in one of the side roads we found a nice central Plaza, where we could ask the Police for a place to camp.
We entered to see about 5 guys lounging lazily in comfortable chairs, watching some soap opera on TV. One managed to get up and showed us a place in the backyard, where we could sleep. When we headed to a nearby mini-market to buy our totopos (nacho chips!) and salsa and to refill our water bottles (cheaper and more ecological than buying bottles), we got a lot of positive comments from kids and elders.
One family that apparently already had seen us on the road got so excited that they invited us to their house for dinner. As they could not explain much more than 'up and behind that steep hill', we decided to put our bikes in their van and -after letting the police know that we wouldn't be staying- off we went.
Gerardo and his family lived outside of town in a small place, erected by a church group. Around it a few dogs were keeping the cows away from the food for the pigs and the chickens. They also had a campervan, which was normally reserved for his 3 girls to study, but now they insisted that we use the bed inside after we shared our totopos and some quesedillas, sharing mutual stories, 7 people around the light of 2 candles…
17th April 2009: Colonet – past san Quintin
Gerardo, his wife and 2 daughters left at 6 in the morning to catch the bus that would take them to work on the fields, paying about $10 per person per day. We spent some time with the 3rd daughter, Areli and then headed out on the bumpy road, back to Highway 1.
Mexico Highway 1 is just a two lane-road, exactly 2 trucks wide, divided in half by a mostly uninterrupted non-passing line. As with all traffic signals (stop signs, speed limits and even distances to the next town), this is merely a polite suggestion, and rarely appreciated.,There is no room for a bicycle if two vehicles are passing each other, so we had to be watchful all the time and our little rear-view mirrors were lifesavers.
Fortunately a large part of todays trip, a small part beside the road was paved, creating a narrow shoulder as wide as 1-2 feet, just enough to make cycling a bit more relaxed.
We passed some busy parts, the area called San Quintin was full of large and small trucks, but right after, traffic was much rarer and the wind was finally in our back for a while. We noticed some regular patterns around the road: trash every meter, ripped car tires every 10 meters and a memorial sign looking like a grave amidst car debris every kilometre or so…
This area was home to many tomato & strawberry growers and we ended up camping at a rest area between big farms, while big trucks were roaming around non-stop.
Tomorrow: Part 2 of Baja California Norte!
You might also like